The Most Beautiful Places in Thailand
Thailand is relatively hot all year round, although officially it has three main seasons. In Summer (March – June), temperatures can soar above 40 degrees, particularly in the northeast and Bangkok. Thai New Year, or Songkran, falls in April, the hottest month. Thailand, officially the Kingdom of Thailand and formerly known as Siam, is a country at the centre of the Southeast Asian Indochinese Peninsula composed of 76 provinces. The country is bordered in west and northwest by Myanmar (Burma), in south west by the Andaman Sea, in east and north east by Lao PDR, in south east by Cambodia, in south by the Gulf of Thailand (an inlet of the South China Sea), and by Malaysia. In south the country occupies a part of the Malay Peninsula.Thailand is one of the most popular travel destinations in the world – Twenty years ago it was considered 'daring' to travel to Thailand.Travelling to Thailand is a breeze, as the country has a tourist-friendly policy as well as a vast network of infrastructure and hotels that cater to a diverse array of business and leisure travellers.
1)

Railay
The beaches at Railay are some of the most stunning beaches in the world and one of the main reasons to head there is to laze around on the white sand and swim in the crystal clear water. Railay, also known as Rai Leh, is a large peninsula between the city of Krabi and Ao Nang in Thailand. At Railay there are no roads; only footpaths. No buses, no cars, just longtail boats. Although it's actually connected to the mainland, the spectacular Phra Nang Peninsular is effectively cut off from the rest of Krabi by limestone headlands and steep jungle valleys; the only access is by sea.   It's golden hour on Phra Nang beach, near the tip of Thailand's Railay peninsula in Krabi province. Railay is an incredible Thai beach paradise! This beach that is cut-off from the mainland by soaring cliffs boasts pristine beaches, a jungled-laden mountain coastline, laidback vibes and many things to do. Railay is what Thailand dreams are made of. A lot of people think Railay Beach is an island but in fact, it is part of mainland Thailand. However, its isolated location (it's only reachable by longtail boat) sure makes it feel like an island. The long tail boat from Ao Nang will take you directly to Railey West. The long tail boat from Ao Nammao will take you to Railey East.
2) Bangkok
image source: https://unsplash.com/Photo by Braden Jarvis on Unsplash
Bangkok, Thailand's capital, is a large city known for ornate shrines and vibrant street life. Bangkok, Thai Krung Thep, city, capital, and chief port of Thailand. It is the only cosmopolitan city in a country of small towns and villages and is Thailand's cultural and commercial centre. The world knows the Thai capital as Bangkok, but locals refer to their city as Krungthep or 'City of Angels'.  Bangkok is the most visited city in the world, and in our opinion it's one of the region's most exciting capitals. It's a bustling, vibrant, cosmopolitan metropolis where countless adventures await. The Chinatown in Bangkok is the largest in the world, home to over a million people of Chinese origin, usually second or third generation.  While in Bangkok you are never more than a block away from an ATM. Machines are rarely alone, either – they're usually huddled in clusters with a few different banks' ATMs. At the end of Yaowarat road, near Hua Lamphong railway station, is the Temple of Wat Traimit which houses the largest gold Buddha in the world. Bangkok is one of the world's top tourist destinations. The city itself is a true tourist paradise, proved by the growing number of travelers coming each year.
3) Ayutthaya Historical Park, Ayutthaya
Photo source: google-tools-labeled for reuse: https://commons.wikimedia.org
Author: Thanate Tan from Bangkok, Thailand
Photo source: google-tools-labeled for reuse https://www.pxfuel.com/
Ayutthaya Historical Park covers the ruins of the old city of Ayutthaya, Phra Nakhon Si Ayutthaya Province, Thailand. There are a total of 67 temples and ruins within the Ayutthaya Historical Park. The Ayutthaya Historical Park comprises of the ruins of temples and palaces of the capital of the ancient Ayutthaya Kingdom. The park is located on an island surrounded by three rivers where the old capital used to be. These days this ancient city is best known for its temples spread about the UNESCO listed Ayutthaya Historical Park. A range of temples dates back to the mid-1300s in all states from crumbling ruins to refurbished everyday places of worship. During the more than 400 years of its existence, the Ayutthaya Kingdom built a great number of temples in various styles.  Thailand's former capital Ayutthaya is renowned for its temple ruins and historical sites.  The Ayutthaya Historical Park contains the ruins of Phra Nakhon Si Ayutthaya, the ancient capital of Ayutthaya Kingdom.
4) Chiang Mai
Photo source: google-tools-labeled for reuse: https://pixabay.com/  wichitth / 8 beelden
Photo source: google-tools-labeled for reuse: https://commons.wikimedia.org
Author: Grossbildjaeger
Chiang Mai is a city in mountainous northern Thailand. Founded in 1296, it was capital of the independent Lanna Kingdom until 1558.Chiang Mai is a land of misty mountains and colourful hill tribes, a playground for seasoned travellers, a paradise for shoppers and a delight for adventurers.  The Chiang Mai weather is always cooler than the rest of the country, with an average temperature of 25°C throughout the year.There is so much to see and do around Chiang Mai that it can seem a little overwhelming to first-time visitors. The beauty of the mountains, hill tribe villages, and botanical gardens attracts millions of tourists to Chiang Mai every year. Outside its almost perfectly square moat and ancient city walls is the bustling Night Bazaar, the peaceful Riverside and the modern Nimman Road.Chiang Mai is also blessed with pristine natural resources including mountains, waterfalls, and Rivers. The presence of numerous hill tribes that feature a wealth of unique cultures enhances Chiang Mai's distinctive diversity. Chiang Mai, largest city in northern Thailand and the third largest city in the nation after metropolitan Bangkok and Nakhon Ratchasima. 
5)

Pai
Photo source: google-tools-labeled for reuse
: https://www.flickr.com/photos
Pai is a town in the Mae Hong Soon Province of northern Thailand. It sits in a valley on the banks of the Pai River.  Pai is a predominantly tourism-oriented town, offering a relaxed atmosphere with a broad tourist and pretty serious backpacker scene. The town's permanent residents are a seemingly harmonious mix of Western hippies,  Pai has three happening main streets, with the scenic Pai River cutting through the eastern part of town. Bamboo rafting and white-river rafting, popular among adventurous souls, are two of the best ways to appreciate Pai's picturesque landscape. It's also a Western paradise: there's organic food, wheatgrass shots, specialty teas, and Western food in shops lining the streets of the town. Additionally, drinks and accommodations are cheap, and the party goes late. Thai rastas, and muslims (there is a big mosque in the center of town) which gives the place a unique vibe which may be appealing to some, even if it isn't traditional. Every night the main street of Pai fills up with food vendors and market stalls selling everything from your quintessential hippie clothing and jewelry to personalized postcards. The beautiful island groups of Surin and Similan are both uninhabited national parks and are renowned for their unspoiled beaches, clear waters, marine life and coral reefs
6) Similan Islands, Phang Nga Province
Photo source: google-tools-labeled for reuse: https://www.flickr.com/photos
Author: Fred von Lohmann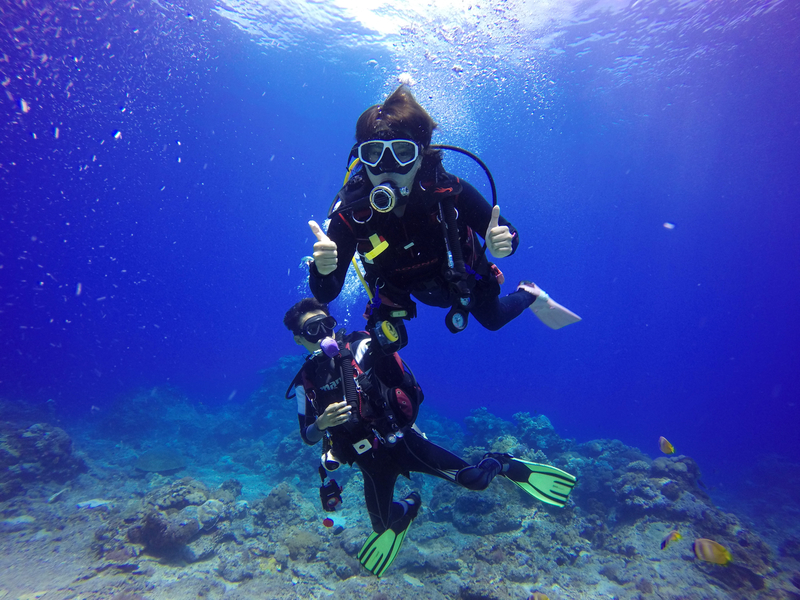 Photo source: google-tools-labeled for reuse: https://www.goodfreephotos.com/
Photo by CHANG TI FANG
The Similan Islands is a group of islands in the Andaman Sea and part of, Phang Nga Province.  It is a national park, Mu Ko Similan, which was established in 1982. The Similan Islands is an archipelago in the Andaman Sea off the coast of, and part of, Phang Nga Province, in southern Thailand. The Similan Islands are an archipelago of 11 islands in the Andaman Sea 70 kilometers off the coast of southern Thailand's Phang Nga Province, the Similan Islands are a top destination for diving, snorkelling, hiking, and relaxing at the beach.  The beauty of the Similan Islands is legendary. The islands are located on Southern Thailand's West Coast in the Andaman Sea, in a the province of Phang Nga. Phangnga is one of the southern provinces in Thailand with its geographic features of mountains and forests 788 km from Bangkok. Clear, shallow blue waters, rock formations, coral reefs, and marine life surround the islands, which have been ranked one of the top ten dive destinations in the world by the National Geographic Society.  Visitors can go exploring beautiful Caves such as Ruesi Sawan cave and Luk Suea cave in Somdet Phra Sri Nakarin Park, Khao Chang road.
7)

Phanom Rung
Photo source: google-tools-labeled for reuse: https://commons.wikimedia.org
Phanom Rung, or full name, Prasat Hin Phanom Rung, is a Hindu Khmer Empire temple complex set on the rim of an extinct volcano at 402 metres elevation. Phanom Rung is probably the most impressive and significant of the Khmer temples that can be found in Thailand. The Phanom Rung festival is celebrated around April each year, when it coincides with the rare phenomenon where the morning sunrise aligns with the fifteen doorways of the temple's upper sanctuary. Phanom Rung is a Shiva temple constructed by Suryavarman II. This comes from an era where Khmer kings were Hindus. Which also means these temples are older than Angkor Wat. The closest destination to Bangkok for trips to Phanom Rung would be Korat. Phanom Rung Historical Park is just one of many historical sites found along the 225-kilometre long Ancient Khmer Highway leading from the revered temples of Cambodia and Angkor.  Prasat Phanom Rung is located on top of an extinct volcano. The sanctuary is situated in Chalerm Phrakiat district of Buriram.  Prasat Phanom Rung and its sister site, Muang Tam, are probably the best preserved and most spectacular set of Khmer ruins in Thailand.
8) Damnoen Saduak Floating Market, Ratchaburi Province
Photos source: google-tools-labeled for reuse: https://commons.wikimedia.org
Author: Mr.Niwat Tantayanusorn, Ph.D.
Photos source: google-tools-labeled for reuse: https://commons.wikimedia.org
Author; Roberto Faccenda
Damnoen saduak Floating Market in Ratchaburi is one of the most popular floating markets in Thailand. Damnoen Saduak Floating Market is located in Ratchaburi Province. It is even one of the eldest market places in Thailand.   Every day many Thai and foreign tourists travel here to shop, eat, and absorb the atmosphere of Thailand water markets that have been like this for over a 100 years. Klong Damnoen Saduak Damnoen Saduak is the straightest and longest canal in Thailand. You can buy many types of things at the market. You can find fresh fruits, utensils, food, or handicrafts. Both Thai and foreign tourists love these very much. Therefore the market is very important to the tourism of Ratchaburi. A bird's-eye view of a canal crammed with narrow wooden boats, laden with tropical fruits, fresh vegetables, fragrant flowers and aromatic herbs, rowed by smiling women wearing woven hats, is one of Thailand's most iconic images.  There are always many tourists at the market. The atmosphere is always joyful. It may not be very big, but it's surely a good place. amnoen Saduak Floating Market's popularity grew to new heights in 1971-1973 when the river was full of farmers on their boats selling their wares. 
9)

Kanchanaburi

Photo source: google-tools-labeled for reuse: https://www.needpix.com/photo
Author: neekungchi (pixabay.com)

Photo source: google-tools-labeled for reuse: https://www.needpix.com/photo
Author: Pinit-Ton (pixabay.com)
Kanchanaburi is a town in west Thailand. It's known for the Death Railway, built during WWII. It's the type of place where a traveler can still get those tingles of discovery and reflection. Kanchanaburi is the third biggest province in Thailand. The area is mostly mountains and hilly terrains.  The province is also rich in history, especially from the World War II era, the Japanese came here and built the Death Railway that took away thousands of innocent lives, today you can see the memories of this by going to the many memorials and museums that you will see dotted around the area. It's an accessible escape from the big city. Rivers, caves, waterfalls, and other natural attractions are within reach once Bangkok's traffic is no longer tolerable. The premier attraction in Kanchanaburi is an iron bridge popularized by the movie, The Bridge on the River Kwai, although very little of the present bridge is original.
10)

Khao Sok National Park
Photos source: google-tools-labeled for reuse: https://commons.wikimedia.org
Khao Sok National Park is home to a diverse range of creatures great and small, over 350 in fact! Exotic birds and primates fill the trees, while the forest floor is home to an array of insects including the recently discovered Scolopendra cataracta, the world's only known amphibious centipede. Khao Sok National Park in Southern Thailand is an amazing place. It is covered by the oldest evergreen rainforest in the world, huge limestone mountains shooting straight up in the air, deep valleys, breathtaking lakes, exciting caves, wild animals and much more. Rainforest Camp is a unique development of elevated, luxury, canvas tents. Boasting all of the creature comforts, including private bathrooms, deluxe beds and two restaurants, you can experience all of the best bits of camping and resort accommodation, combined. One of the most interesting areas is stunningly beautiful Cheow Larn Lake in the heart of the National Park with its floating raft houses and luxury tent. Khao Sok National Park is one of my favorite national parks in Thailand. It is a great place to go for vacation. Jungle trekking on foot, river canoeing  & river tubing.
Thank You for Visiting Us,  Please,  Visit Again Soon..We Are Working on It…..