The Most Beautiful Places in MALAYSIA
Malaysia is a country in Southeast Asia. To know Malaysia is to love Malaysia – a bubbling, bustling melting-pot of races and religions where Malays, Indians, Chinese and many other ethnic groups live together in peace and harmony. Our multiculturalism has made Malaysia a gastronomical paradise and home to hundreds of colourful festivals. It's no wonder that we love celebrating and socialising. As a people, Malaysians are very relaxed, warm and friendly. It has land borders with Thailand in West Malaysia, and Indonesia and Brunei in East Malaysia.  The country has developed itself enormously in the past 50 years and this is clearly noticeable when visiting it.  Malaysia is a multi-ethnic and multi-religious country in Southeast Asia and one of the wealthiest and most developed countries.
1)  Taman Negara
Photo source: google-tools-labeled for reuse: https://commons.wikimedia.org
Author: RoB
Photo source: google-tools-labeled for reuse: https://pixabay.com/photos
Taman Negara, the world's oldest tropical rainforest, 130 million years is waiting to share her pride heritage.  Taman Negara is a national park in Peninsular Malaysia. Taman Negara is one of the oldest primary rainforests in the world and due to its close proximity to Malaysia's capital Kuala Lumpur.  he most popular activities at Taman Negara are river cruises and jungle trekking. The canopy walk is also a must-see, offering a fantastic close up view of activity in the rainforest canopy. At 130 million years of age, Malaysia's Taman Negara rainforest is the oldest in the world.  Taman Negara is Malaysia's prime national park and the leading ecotourism destination on the Malay Peninsula. The main part of Taman Negara National park is called Kuala Tahan and most of the hiking trails are found here. The epitome of a grand adventure, Taman Negara is a treasure trove of flora and fauna waiting to be uncovered. Strap on your trekking boots and explore the rich history of Taman Negara as one of the world's oldest tropical rainforest—older even than the Amazon!
2) Kuala Lumpur
Photo source: google-tools-labeled for reuse: https://commons.wikimedia.org
Author: Azharsofii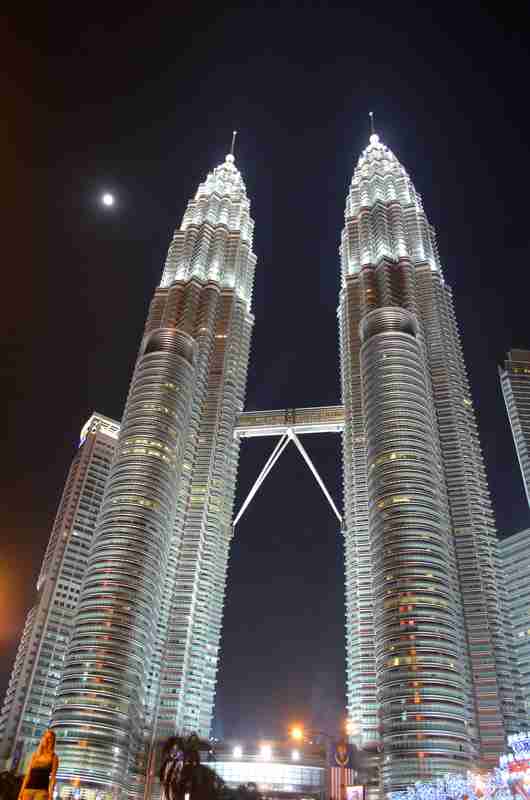 Photo source: google-tools-labeled for reuse:https://www.goodfreephotos.com/
Kuala Lumpur is the capital city of Malaysia, boasting gleaming skyscrapers, colonial architecture, charming locals, and a myriad of natural attractions. It is among the fastest growing metropolitan regions in Southeast Asia, in both population and economic development. Kuala Lumpur lies in hilly country astride the confluence of the Kelang and Gombak rivers; its name in Malay means "muddy estuary". Kuala Lumpur, capital of Malaysia. Kuala Lumpur, also known as KL is the capital of Malaysia. The words Kuala Lumpur literally mean 'Muddy Confluence'.  About Kuala Lumpur, the national capital of Malaysia with a searchable map/satellite view of the city. Kuala Lumpur is full of historic monuments, skyscrapers, lush parks, bustling street markets, and megasized shopping malls located in the Central Region of West Malaysia, a megadiverse country. 
3) The Perhentians, Terengganu
Photo source: google-tools-labeled for reuse: https://commons.wikimedia.org
Author: adiput
The Perhentian Islands are part of the state of Terengganu in Malaysia and offer visitors acres of sandy beaches and azure waters. The Perhentian Islands are made up of two separate isles named Perhentian Besar (Big Perhentian) and Perhentian Kecil (Small Perhentian).  The Perhentian Islands are a small group of beautiful, coral-fringed islands off the coast of northeastern . Malaysia in the state of Terengganu, not far from the Thai border. Perhentian Island Resort, located on the biggest island of the archipelago, offers visitors an amazing vacation experience. It is a private resort built on 25 acres of natural rainforests and a pristine beachfront with breathtaking sea views. From idyllic beaches, natural forest splendours all around to a host of exciting activities, adventures and mouthwatering cuisine, the perfect retreat to reenergize yourself .
4) Pasar Besar Siti Khadijah
Photo source: google-tools-labeled for reuse: https://commons.wikimedia.org
Author: yeowatzup
Siti Khadijah Market (Pasar besar Siti Khadijah), as its name implies, is a local wet market and this market is mostly run by women. Siti Khadijah is located at Jalan Hulu, and is well known among taxi drivers. It generally takes about 30mins from the Kota Bahru airport and cost about RM40.  Pasar Besar Siti Khadijah Pasar Besar Siti Khadijah is a central wet market that is located in the heart of Islamic City of Kota Bharu. Pasar Besar Siti Khadijah (or Siti Khadijah Main Market) is a hive of morning market activity in the heart of Kota Bharu at the break of dawn each day. The current main building was opened in 1985 under the name Pasar Besar Buluh Kubu (Bamboo Fortress Main Market), but was renamed by Kelantan's spiritual leader, Nik Aziz, as Siti Khadijah (the wife of the Prophet Mohammed) as a tribute to the mainly women traders in Kelantan.
5) Gunung Mulu National Park
Photo source: google-tools-labeled for reuse: https://commons.wikimedia.org
Author: Paul White
The Gunung Mulu National Park is a national park in Miri Division, Sarawak, Malaysia. Gunung Mulu National Park, on the island of Borneo in the State of Sarawak, is the most studied tropical karst area in the world.  Gunung Mulu, a UNESCO World Heritage Site of Outstanding Natural Beauty, has everything to offer for both leisure and adventurous visitors.Mulu Caves National Park is home to one of the longest networks of caves in the world.  The park is dominated by Gunung Mulu, a 2,377 m-high sandstone pinnacle. At least 295 km of explored caves provide a spectacular sight and are home to millions of cave swiftlets and bats. 
6) Port Dickson
Port Dickson is a beach resort destination at Negeri Sembilan in Malaysia, about 90km south from Kuala Lumpur and 30km away from Seremban. Port Dickson or better known as PD by the locals, is a popular holiday destination thanks to its beautiful white, sandy beaches. there are also many tourist attractions to explore that include an army museum, ostrich farm, lunar observatory, ornamental fish center, waterfront walk, 3D art galleries and much more. Nestled on the beach, this Port Dickson hotel is 1.5 mi (2.4 km) from Tanjung Tuan and 3 mi (4.9 km) from Cape Rachado Lighthouse.  Port Dickson, town, south-central Peninsular (West) Malaysia, on the Strait of Malacca. Port Dickson is a popular beach destination in the state of Negeri Sembilan, Peninsular Malaysia. The closest beach area to Kuala Lumpur, Port Dickson (PD) is popular with locals, Singaporeans and resident foreign expats. 
7) Night markets in Langkawi 
image source: http://www.langkawi-info.com/
Night markets in Langkawi are held every day of the week, taking place in prominent locations such as Pantai Cenang, Kuah, and Padang Matsirat. The night market in Kuah is well known for being the largest on the island.  During fruit season, this is one of the night markets in Langkawi that has a fantastic array of durian dishes that are unique to Malaysia. There is a night market somewhere on Langkawi every night of the week. The night markets are local tradition and they start bustling at around 5pm. Feel lively in Temoyong Night Market as it is one lively street market with local vendors setting up makeshift stalls and selling items from evening till quite late.
8)  Cameron Highlands

Photo source: google-tools-labeled for reuse:https://www.maxpixels.net/
The Cameron Highlands is a district in Pahang, Malaysia occupying an area of 712.18 square kilometres (274.97 sq mi). Cameron Highlands is the most popular of the highland retreats in Malaysia. Located at almost 2,000 meters at its highest point, Camerons offers visitors a moderate climate with daytime temperatures averaging around 25°C and 18°C at night. The Cameron Highlands is the name of a scenic hill station in the state of Pahang in Malaysia which dates from the 19th century. The Cameron Highlands is a highland situated at about 150 kilometers North of Kuala Lumpur, and about 20 km. east of the city Ipoh.  The Cameron Highlands have hosted tourists for almost a century. Most visitors come for the cooler climate, which also permits a thriving tea and vegetable industry found nowhere else in Malaysia.
9) Ipoh, Perak
Photo source: google-tools-labeled for reuse: https://commons.wikimedia.org
Author: Dennis Sylvester Hurd
Ipoh is the capital city of the Malaysian state of Perak. Ipoh, in the state of Perak, is one of the less explored cities in the region despite having a huge number of interesting attractions to offer visitors. Ipoh is the capital of the state of Perak in Malaysia and it is the fourth largest city in the country and serves as the gateway to Cameron Highlands. The famous Ipoh White Coffee that took the world by storm originated in this small coffee shop, Nam Heong, in Ipoh. White coffee is still served in old-school coffee cups in an old kopitiam setting. Sam Poh Tong is a very beautiful and famous cave temple located in Gunung Rapat. The Chinese Buddhist Temple was discovered in 1912 in a limestone hill. Located in Ipoh, Perak, a mere two hours from Kuala Lumpur, this haven is an ideal destination for a weekend of wholesome family fun or a burst of eco-adventure or even for that very special escape from your day to day stress – Lost World Water Park, Lost World Amusement Park, Lost World Tin Valley, Lost World Tiger Valley, Lost World Petting Zoo, Lost World Team Building Park, Lost World Hotel & Lost World Hot Springs And Spa.
10)

Kuantan
Photo source: google-tools-labeled for reuse: https://commons.wikimedia.org
Author:Kuantan
Photo source: google-tools-labeled for reuse: https://commons.wikimedia.org
Author:Waterfallsofpahang
Kuantan is the state capital of Pahang, on the east coast of Peninsular Malaysia. Kuantan is one of the few seaside beach town in Malaysia with beautiful sceneries that's literary less than an hour flight away from Kuala Lumpur. Instead of a grueling 3+ hours' drive, you can now get there directly via AirAsia's members all-in fare for just RM16 (one way flight). Kuantan is the capital of the state of Pahang, the largest state of the Malaysian peninsula. It is about 277 kilometres from Kuala Lumpur; or a 4 hour drive. Exciting things to see and do in Kuantan, Pahang, Malaysia with various activities, attractions located near Hyatt Regency Kuantan & Teluk Cempedak beach. Kuantan is vibrant, clean and punctuated by lush greenery that gives the town a refreshing countryside atmosphere. Food is easily available as there are many restaurants and open air food stalls selling local culinary delights. Its nightlife is an affair of colorfully decorated stalls selling anything from handicraft to costume jewelry and farm produce.
11) Food Adventure in Jalan Alor
Photo source: google-tools-labeled for reuse: https://commons.wikimedia.org
Author: Stefan Fussan 
Jalan Alor is a one way street at the heart of the Bukit Bintang District in the Kuala Lumpur City Center.  But you come to eat at Jalan Alor for the choices, people watching, and notoriety of the most famous street food scene in Kuala Lumpur. Hosting a lot of hawker stalls and seafood restaurants, Jalan Alor is one of the most famous roads in Kuala Lumpur for food. Located just behind Jalan Bukit Bintang and a short walk away from Changkat Bukit Bintang, it is a favourite after-clubbing dining spot in the Golden Triangle area. Jalan Alor is a long road in the Bukit Bintang area of Kuala Lumpur and home to the city's largest selection of street food stalls and restaurants, which sounds like my idea of dinnertime heaven.
12) Mersing
Photo source: https://in.pinterest.com/pin/358317714074739610/
Author: Junie Lee
Mersing town is on the east coast of the peninsular Malaysian state of Johor. It is 136 km northeast of the state capital Johor Bahru. Most people recognise Mersing as the main departure point for ferries. From Mersing, we can go to the famous islands like Tioman Island and Rawa Island. Mersing Is A Town In Johor Bahru That Is Worthwhile For You To Explore & Spend Time With Your Family. It was made famous for being the gateway for visitors to catch a ferry and go to Tioman Island. Its predominantly Malay residents live in coastal and riverine fishing villages. There are some local tin-mining settlements and rubber estates.
Thank You for Visiting Us,  Please,  Visit Again Soon..We Are Working on It…..