The Most Beautiful Places in JAPAN
Japan is an island country located in East Asia. Japan is an archipelago, or string of islands, on the eastern edge of Asia. There are four main islands: Hokkaido, Honshu, Shikoku, and Kyushu. The total area of Japan is 377,960sqkm. The population is 127,187,000 (as of Feb 2014, by Ministry of International Affairs). Japan, one of the world's most literate and technically advanced nations, is an East Asian archipelago country made up of four primary islands. Japan's relations with its neighbours are still heavily influenced by the legacy of Japanese actions before and during the Second World War.
1) Tokyo City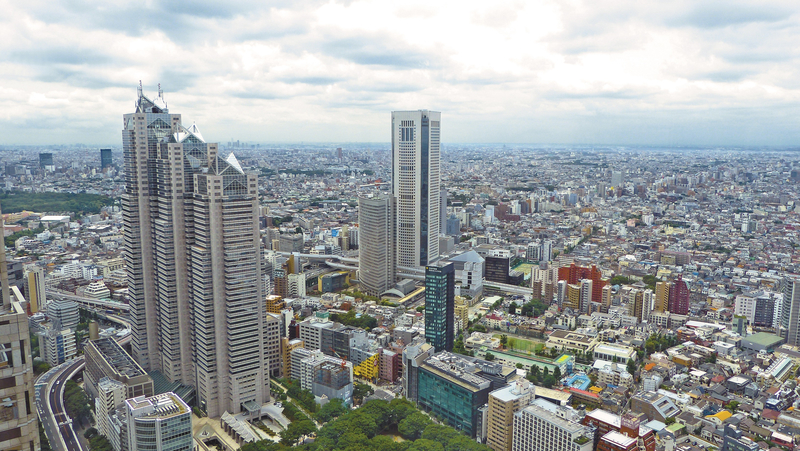 Photo source: google-tools-labeled for reuse:https://www.goodfreephotos.com/
Photo source: google-tools-labeled for reuse: https://pixabay.com/photos
Tokyo, the capital of Japan, is officially known as the Tokyo Metropolis. This is one of the worlds most densely populated cities. A record 19.7 million tourists visited the country in 2015, with many spending time in its magical capital city. It is estimated that about 3% of Japan's power goes toward powering vending machines. The Harajuku district in Tokyo is famous for its alternative street fashion. Tokyo is the largest metropolitan in the world, hosting over 36 million people spread over 3 prefectures. Tokyo is one of the best shopping destinations in the world. Head over to Ginza, the world-renowned shopping district, for major international labels including Chanel, Cartier and Bulgari. For those looking for more unusual or cutting-edge trends, the Harajuku and Omotesandō neighbourhoods are the place to go.
2) Nijo Fish Market
Photo source: google-tools-labeled for reuse: https://commons.wikimedia.org
Author: Wing1990hk
Located in Sapporo's central area, Nijo Fish Market is a popular sightseeing spot. Nijo Ichiba Fish Markets This historic fish market has been part of Sapporo for over 100 years. The market is located close to Sapporo's Odori Park and is lined with stalls selling uni (sea urchin), crabs, fish roe and eggs, salmon, kaisen donburi (seafood bowls), and fresh produce. Open between 7AM to 6PM, the market includes restaurants called Noren Yokocho in addition to the vendors selling produce. The market, a short walk from Sapporo's TV Tower, includes about two dozen street-side shops situated along the banks of the Sosei River selling a wide variety of seafood.
3)  Takayama- Japan
Photo source: google-tools-labeled for reuse: https://commons.wikimedia.org
Author: kiwa dokokano
Takayama is the heart of Japan's inland mountain culture. The city is built around the beautifully preserved Sanmachi Suji district. Takayama Japan is a Castle Town up in the Mountains in the Hida region a few hours by train from Osaka, Kyoto, Tokyo and Nagoya. Takayama is a sightseeing area in Gifu, filled with the charms of old Japan. Takayama is a japanese city of Gifu prefecture, located in the heart of Hida mountains in the Japanese Alps, on the main island Honshu. Sanmachi Suji is Takayama's famous sake breweries/ restaurant/ cafe area. Takayama city is a central city of Hida area, and is located about 100 km north-northeast of Gifu city. It is about 550 meters above sea level.
4) Bullet Train
Photo source: google-tools-labeled for reuse: https://pixabay.com/photos
Shinkansen is the term used to describe bullet trains in Japan and it literally means "new trunk line." Sometimes referred to as "super express" services. Shinkansen bullet trains are the fastest and most convenient way of discovering Japan. The bullet train, or "Shinkansen", is a type of passenger train which operates on Japan's high-speed railway network. Japan's main islands of Honshu, Kyushu and Hokkaido are served by a network of high speed train lines that connect Tokyo with most of the country's major cities. Japan's high speed trains (bullet trains) are called shinkansen and are operated by Japan Railways (JR). Japan's bullet trains, which made their debut in the same year as the 1964 Tokyo Olympics, have become a symbol of the country's focus on efficiency and reliability. 
5) Hakodate Morning Market
image source: https://www.hakodate.travel/en/top7/morning-market
Hakodate Asaichi (Morning Market) boasts approximately 250 stores offering take-home souvenirs, in particular, seafood products. Try the mouth-watering "seafood rice bowl" here to start your day with a bowl of steaming rice topped with freshly-caught seafood. The market is literally a two-minute walk from the Four Points by Sheraton hotel where I'm staying or the Hakodate train station.  It's a very compact city and easy to explore on foot. The Hakodate morning market is the market representing Hakodate. Hakodate Morning Market is home to the most delicious food in Hakodate, with cuttlefish being the city's specialty. "Hakodate morning market" located 1 minute on foot from the station
6)  Nara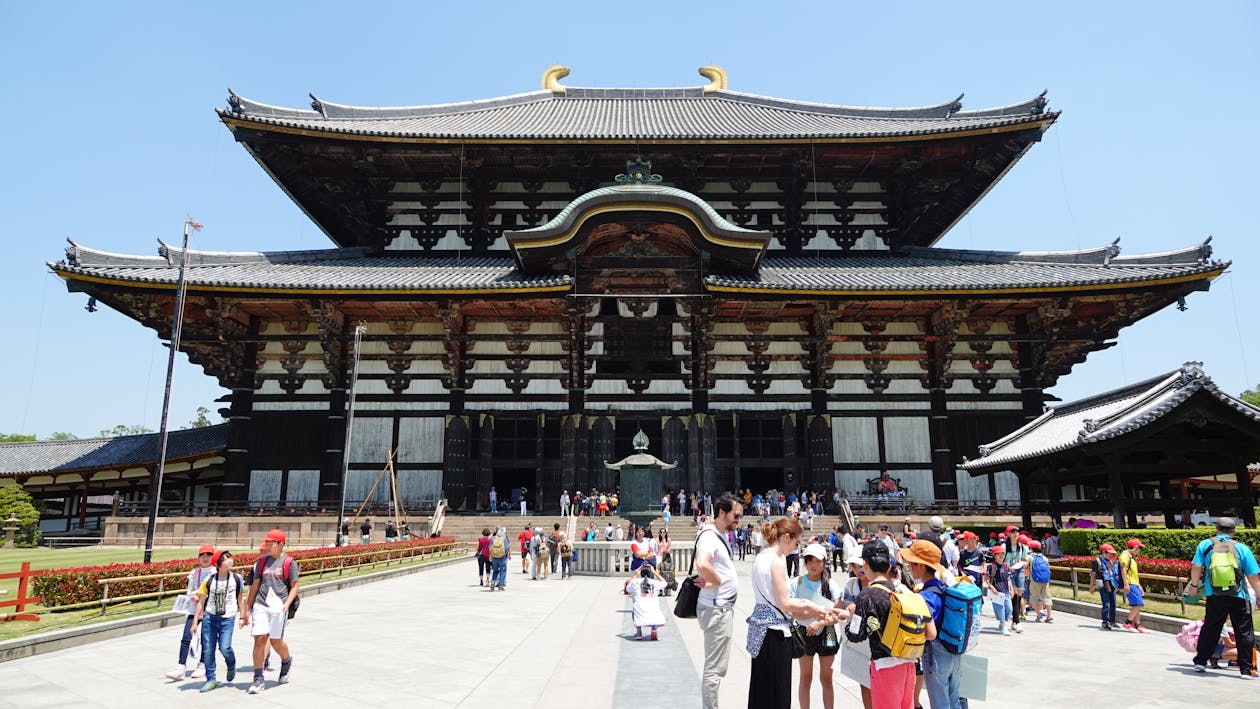 Photo source: google-tools-labeled for reuse: https://www.pexels.com/photo
Nara is the capital city of Nara Prefecture located in the Kansai region of Japan. Japan's first permanent capital was established in the year 710 at Heijo, the city now known as Nara. Nara is second only to Kyoto as the richest collection of traditional sites in Japan. Nara is a historic and picturesque Japanese city where sacred deer still roam the narrow streets. Nara is an ancient capital city in Nara Prefecture, Kansai region of Japan. Nara is the first place of Japanese capital in Japan in 710. Nara town has old history. But it takes only 30 minutes from downtown Osaka. Nara was the capital of Japan between 710 to 794 AD. The ancient city is one of the major tourist highlights in Japan and is famous for its tame deer ranging freely in the city. 
7)  Ishigaki 
Photo source: google-tools-labeled for reuse: https://commons.wikimedia.org
Source: 663highland
 Ishigaki Island  is the main island of the Yaeyama Islands and the region's transportation hub. The southernmost part of Japan, Ishigaki and its surrounding islands have a wealth of arresting activities.  Ishigaki Island the third largest island in Okinawa, is one of the most popular remote islands. Ishigaki is the main transport hub and commercial center for the Yaeyama islands. This is the best location on Ishigaki Island facing Taketomi Island and Iriomote Island. Ishigaki is one of the main islands of Yaeyama and can be accessed directly from Tokyo, Osaka, Nagoya and Naha by air.
image source: https://www.wikiwand.com/
Wajima's Morning Market (Asaichi in Japanese) is the city's most famous attraction, believed to date back over a thousand years.The Wajima Morning Market is one the three most famous morning markets of Japan with a history of over 1,000 years, making it the oldest market in the country. Wajima in Ishikawa Prefecture, is a port city facing the Sea of Japan, situated on the Noto Peninsula.Wajima Morning Market is a local producers market on Asaichi-dori avenue in Wajima City, well known for its unique atmosphere. The market is listed as one of the three largest Morning Markets in Japan and is the oldest at 1000 years.Wajima morning market is a morning market held in Wajima city of Ishikawa Prefecture. It is open nearly every day from 8 A.M. to noon.
9) 

Hakone
Photos source: google-tools-labeled for reuse: https://commons.wikimedia.org
Source: Daderot
Hakone is close to Tokyo and Mount Fuji and is a popular travel destination. Situated in the southwest of Kanagawa Prefecture in the Fuji-Hakone-Izu National Park is the town of Hakone.In Hakone, there are many fine hot springs (onsen) and locations with magnificent views of Mount Fuji. Hakone has a LOT to offer on a day or weekend trip from Tokyo. Hakone is located on the Japan's Golden Route for foreign tourists including Tokyo, Kyoto and Osaka.  Hakone is not only about hot springs – here you can find a variety of attractions, from beautiful outdoors and nature to museums and fun forms of transportation, like a ropeway, cable cars, and mountain trains.
10)   Hiroshima City
Photos source: google-tools-labeled for reuse: https://commons.wikimedia.org
Author:  RAKKO_TAKASAKA
Hiroshima is a beautiful city blessed with a rich natural environment, nestled between lush green mountains and the tranquil Seto Inland Sea. Hiroshima City, facing the scenic Seto Inland Sea with its many beautiful islands, is surrounded by mountains that change color depending on the seasons.The Peace Memorial Museum is made up of two buildings with exhibitions outlining the city's history and the aftermath of the atomic bomb destruction. Japan has marked 74 years since a US atomic bomb attack that razed the city of Hiroshima to the ground at the end of World War II. Through the efforts of many people, including those of the city of Hiroshima, it has been preserved in the same state as immediately after the bombing. 
11) Kuromon Market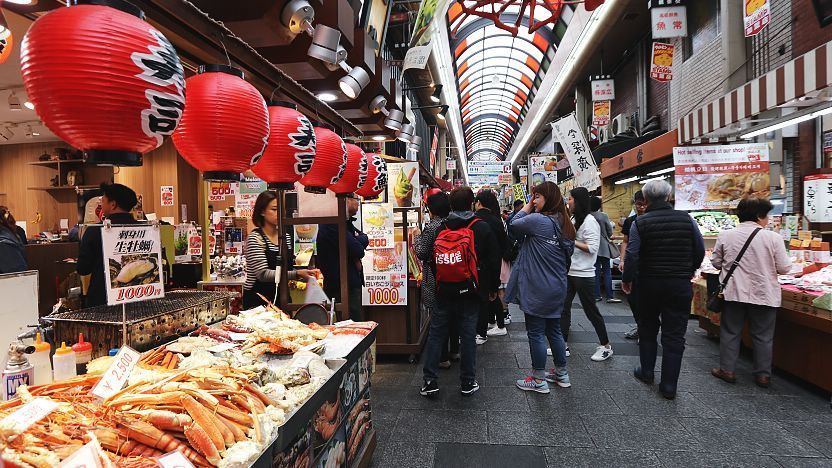 image souce: https://www.japan-guide.com/e/e4031.html
Kuromon Ichiba is a lively covered market which stretches for 580 meters in Osaka's Chuo Ward.  Stalls of fresh fish and produce line the long, narrow alley of the Kuromon Ichiba, an old-style marketplace in Osaka's Namba district.  Kuromon Market, referred to as the kitchen of the huge gourmet area of Osaka, is where many of the professionals go to for their ingredients. Kuromon Ichiba Market is a market in Osaka. Across about 300 meters, shops which handle food and clothing are lined up. Kurmon Market Osaka is home to one of Japan's most vibrant food cultures. 
12) Kyoto 
Photo source: google-tools-labeled for reuse: https://www.flickr.com/photos
Author: Bernard Spragg. NZ
Japan's greatest ancient city, Kyoto is the most popular tourist destination in Japan.  Kyoto, Japan's most beautiful city, is not the largest centre in the country, but it has a lot to keep you occupied when you visit. The other most photographed icon in Kyoto is the Fushimi Inari Shrine, which consists of thousands of red-orange torii gates leading up a hill in eastern Kyoto. Kyoto, Japan. The shrines and temples of Kyoto offer a rare link between modern life in the city and its very ancient past.  Japan has long served as a cultural muse, and no city on this island nation has held as long of a reign as Kyoto. Kyoto, the ancient capital, with a thousand years of history and tradition. Includes information on tourist spots and matsuri (festivals) that are both perennial favorites and off the beaten path, and a myriad other Kyoto City attractions.
13)  Hakuba Valley 
Only 2.5 hours from central Tokyo, Hakuba Valley is located at the northern end of the spectacular Japan Alps. Hakuba Happo-one Snow Resort is a magnificent skiing venue in Japan, widely recognized for the Nagano winter Olympic games held in 1998. Hakuba is an internationally renowned ski resort town in the northern Japan Alps.  Hakuba Valley is at the heart of the spectacular Japanese Alps and just 3hrs from downtown Tokyo. The Hakuba Valley is a huge expanse of spectacular alpine mountain ranges which provides the breathtaking background panorama for the surrounding traditional, agricultural villages of Otari, Hakuba and the city of Omachi. In winter, 10 major ski resorts unite together as HAKUBA VALLEY, with one common lift pass and linking a shuttle bus service for visitors to the Valley. Hakuba in the Japanese Alps near Nagano is a valley with a large number of ski resorts. Each Hakuba ski resort alone may not offer a huge amount of terrain variety, but it's the combination of the different Hakuba ski areas and villages that makes the valley pretty special. Hakuba Japan is very popular with international tourists because it ticks lots of boxes that other Japan ski resorts can't.
14)  Nagano 
Photo source: google-tools-labeled for reuse: https://commons.wikimedia.org
Author: Nihonsuku
Photo source: google-tools-labeled for reuse: https://www.flickr.com/photos
Japan's Nagano prefecture boasts stunning natural landscapes, famous castles, and breathtaking shrines. Centered in the heart of Nagano prefecture, Zenkoji is one of Japan's most important temples. It's home to the first Buddhist statue that was brought to Japan over 1,300 years ago. Every six years, a replica of the sacred Buddhist statue goes on public display.  Nagano Japan provides a unique variety of sites with historical, cultural, and natural characteristics that is hard to match elsewhere in the country. Nagano is an inland area in the center of the main Honshu island of Japan, and is home to many mountains, including the Japanese Alps. agano is the perfect place to go to experience Japan's great outdoors year-round, including winter sports.
15) Kawaguchi- Japan
Photo source: google-tools-labeled for reuse: https://commons.wikimedia.org
Author: 663highland
Lake Kawaguchiko is the most easily accessible of the Fuji Five Lakes with train and direct bus connections to Tokyo. A hot spring resort town with various tourist attractions and views of Mount Fuji is located around the lake's eastern end, while the northern and western shores are mostly undeveloped. Among the wide range of other tourist attractions available around Lake Kawaguchiko are hot spring baths, various museums, the Fuji Q amusement park, boat tours and a ropeway leading onto a small mountain next to the lake. In the Kawaguchi area you can have magnificent views of Mount Fuji. Especially across the Kawaguchiko lake, one of the five lakes in the surroundings of Mount Fuji area, the mountain is beautifully portrayed on a clear day. It is also one of the easiest accessible places from Tokyo, with direct bus and train connections. The area is great for a day trip, but with all the many interesting and fun things to do in the Kawaguchiko area, a weekend trip here is definitely not a bad idea to do!.
Thank You for Visiting Us,  Please,  Visit Again Soon..We Are Working on It…..